This product was developed by a Swiss guy in 1993. The Pizzarette has been reintroduced by F&F Products in 2009 with annually growing sales results. In more and more countries people seem to like to spend diner with the family and friends making their own diner right at the diner table. For children this is a great experience to prepare and bake their own pizzas with differe
Sold over 1 million units
New Models: Cool Touch, Pre-Bake, Pizzarette Grill
Already available in: Netherlands, Belgium, UK, France, Spain, Switzerland, Germany, USA, Sweden, Denmark, Thailand and more countries are starting.
Dough cutter
Spatulas
Recipe booklets
Terra cotta dome
Available in 110v and 220v
Pizzarette Cool Touch 4 pers
Outside dome Cool Touch
Isolation on inside dome
Baking on the spatula or directly on the baking plate

Baking plate can be easily cleaned

Certifications: GS 
Meet the latest NEN standards
Pizzarette Cool Touch 6 pers
Outside dome Cool Touch
Isolation

on inside dome

Baking on the spatula or directly on the baking plate

Baking plate can be easily cleaned

Certifications: GS 
Meet the latest NEN standards

Pizzarette Cool Touch Stone 6 pers
Stone base for extra crispy results
Only available for 6 persons
Baking on the spatula or directly on the baking plate
Meet the latest NEN standards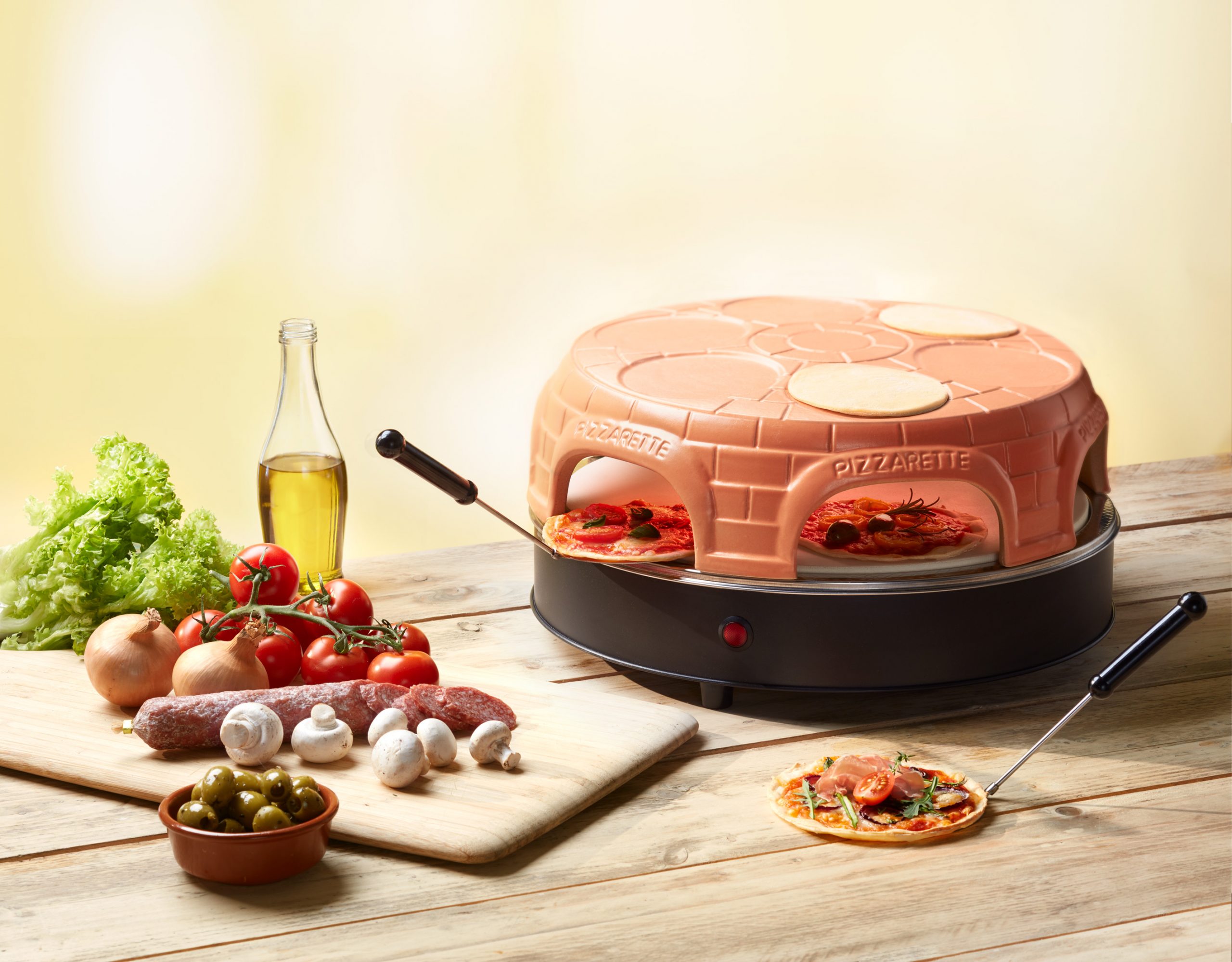 NEW! The Pizzarette Pre-Bake
Pizzarette Pre-Bake 2 pers
Keep warm or Pre-Bake function on top

10% more power for faster baking
Dome with glaze coating
Baking on the spatula or directly on the baking plate

Baking plate can be easily cleaned

Certifications: GS 
Pizzarette Pre-Bake 4 pers
Keep warm or Pre-Bake function on top

10% more power for faster baking
Dome with glaze coating
Baking on the spatula or directly on the baking plate

Baking plate can be easily cleaned

Certifications: GS
Pizzarette Pre-Bake 6 pers
Keep warm or Pre-Bake function on top

10% more power for faster baking
Dome with glaze coating
Baking on the spatula or directly on the baking plate

Baking plate can be easily cleaned

Certifications: GS 
Pizzarette Pre-Bake 8 pers
Keep warm or Pre-Bake function on top

10% more power for faster baking
Dome with glaze coating
Baking on the spatula or directly on the baking plate

Baking plate can be easily cleaned

Certifications: GS 
Pizzarette Pre-Bake Stone - 6 pers
Keep warm or Pre-Bake function on top

10% more power for faster baking
Dome with glaze coating
Baking on the spatula or directly on the baking plate
Certifications

: GS 
Pizzarette Pre-Bake Square - 4 pers
Keep warm or Pre-Bake function on top

10% more power for faster baking
Dome with glaze coating
Baking on the spatula or directly on the baking plate

Baking plate can be easily cleaned

Certifications: GS
Pizzarette Pre-Bake Hexagonal - 6 pers
Keep warm or Pre-Bake function on top

10% more power for faster baking
Dome with glaze coating
Baking on the spatula or directly on the baking plate

Baking plate can be easily cleaned

Certifications: GS 
Pizza – Grill – Raclette in one device

10% more power for faster baking
Dome with glaze coating
Baking on the spatula or directly on the baking plate
Certifications

: GS 
For extra cooking options

Can be ordered separately
The making of ... Pizzarette domes
15 minutes product presentation